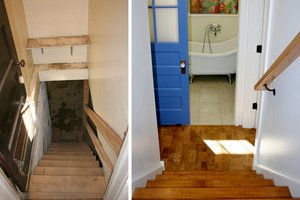 Yesterday was a long day spent cleaning out Matt's Grandmother's house so we can finally list it on the market on behalf of her estate. The process has taken a lot longer than expected, it's a two hour drive round trip each time we visit and there was more to be done than expected but finally there's a light at the end of the tunnel now that the bathroom makeover is finally complete!
Speaking of heating, you have many more options to keep your bathroom comfy and cosy these days than ever before; you can consider using radiant heat, electrical heat, warmth coming from sub-floor hot water piping, and even electrical wire heating installed under your floor tiles. Choose the solution that works best and is the most affordable for your family's needs.
Remodeling a bathroom is stated to return over 90 percent. According to Remodeling Magazine , the return is 75%. The decisions you face and the budget you set for this project are important decisions for you and family. When in doubt, go slow, measure twice, cut once. Do think out of the box and do consider changing the height of the cabinets. Do look through the kitchen cabinets for added storage options such as upper cabinets. Most importantly, set a budget and stay within reason and blend to your current homes architecture and décor.
The new alcove's walls were waterproofed, and then all three were tiled from the tub right up to the skylight, with a small niche built into one end to hold shampoo tiles were one inch in size and mainly cream in color, with some water-glass green and blue glass tiles at random intervals to add a splash of color and help diffuse the light that streamed in from the skylight.
I'll admit I was nervous about taking the plunge to paint the RV interior. Vinyl surfaces and paint are not historically good pairings. The folks at the paint store told me there are many new paint products designed especially for plastics, vinyl and cabinets. Key to success; clean surfaces, good prep and drying time…. patience in other words. Not my strong suit.