Bathroom remodel, bathtub refinishing, walk-in tubs, showers, countertops and cabinets, vanities and mirrors, flooring and sinks, kitchen remodeling, painting and carpentry, plumbing and electrical, roofing and windows, decks and porches and so much more!
First of all, you need to remove clutter from the bathroom floor. An elder shouldn't have to navigate around plants, hampers, or trash baskets to get to the toilet, sink, or tub or shower. Also, rugs should be removed. Even rugs with non-skid backing could result in slip and fall accidents for elders who shuffle instead of picking up their feet as they walk.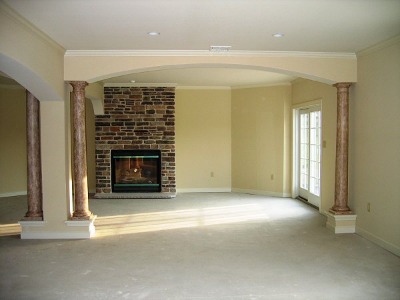 Not only am I proud of Jake and I for doing it all ourselves (of course our parents and some friends donated some of their nights and weekends too), I'm also still dumbfounded that we spent less than $2,000 from start to finish. If you don't believe me, check out the CCC post I did on it, complete with source list and pricing. This room is total proof that you can do anything with a small budget and your own two hands.
A wonderful tool you can use to estimate costs for your project in your area is the Consumer Estimator. Simply input your project information and zip code and it will give you a basic estimate including cost of materials and labor. You can then calculate your sweat equity by subtracting the cost of your materials from this estimate. Another way to add to your bottom line is by shopping around for your materials, and renting larger tools to save the cost of purchase.
The photograph at the top right of this article shows a long thin cabinet we use for storing face-cloths and toiletries and other sundries. It fits into a tiny space between our bath and window, and it cost very little to buy. It is a CD cabinet, made of unvarnished wood, which we painted. We bought it about 13 years ago in Ikea, and it has travelled with us through 2 house moves and survived repainting. The photograph to the right shows the interior of the cabinet. It had plenty of shelves, which makes smaller items easy to find. To fit in taller bottles we simply removed a shelf.